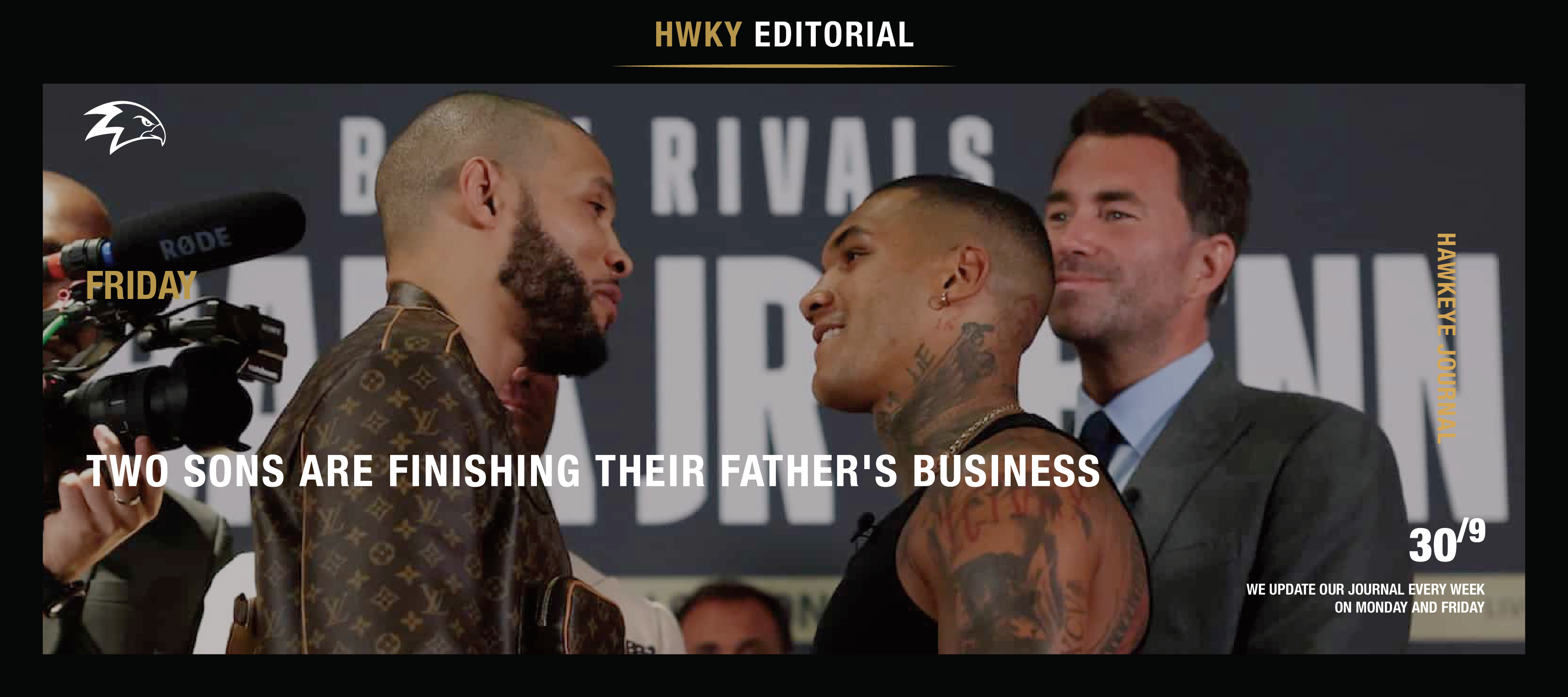 Two Sons Are Finishing Their Father's Business
Four decades after the historic Eubank-Benn conflict that characterized their period, the next generation, Chris Eubank Jr. (32-2, 23KO) and Conor Benn (21-0, 14KO), are resurrecting it.
Neither of these kids is in the same league as their dad, but their names must be respected for emerging from the shadows to restart this 30-year conflict. Although they are not as talented as their fathers, they share parallels with them - Eubank Jr. has the same hubris as Senior, and Connor has the same spite as 'The Dark Destroyer,' a moniker he has changed to 'The Destroyer' for himself.
Conor Benn has grown from an average prospect to a world-class boxer under Tony Sims' tutelage. His amateur career was spent in Australia, where he won 20 out of 22 contests. Eubank Jr. hung up with a reasonably similar 24-2 record, also abroad, but against far superior quality. He won the Nevada Golden Gloves, then the Western States. He won the renowned Haringey Box Cup in the United Kingdom.
Benn of Matchroom Boxing has progressed incredibly well from fight to fight and has emerged into a true world force, being listed in the top five by all regulatory bodies (No.6 with the IBO).
Eubank Jr. has appeared like a significantly different fighter since joining RJJ; no longer wild and unrefined as he was against Groves, but far more measured, balanced, calm, composed, and accurate. Conor Benn was the one who called for this fight, despite having several possibilities at 147 pounds, namely the potential to meet European champion David Avanesyan, a match fans have been clamoring for quite some time.
The more significant concern is how Chris will deal with the catchweight provision. In interviews, he's not sure how he'll make the weight and won't be at his best after sacrificing so many pounds to make the fight possible. Despite paying a $100,000 fee for each pound missed on the scales, it has been stated that he intends to weigh in at 158lbs rather than the agreed-upon 157lbs limit.
The bigger man defeats the smaller welterweight in this battle. It's tough to predict when this will occur until we see how Benn begins. Will he be as aggressive as in his previous fights? Because that battling fervor will be too quick and reckless to be effective against CBE. Or, knowing the size and caliber of his 22nd opponent, will he take a considerably more cautious, measured approach? I believe Benn will have several rounds in him if he has previously demonstrated his heart.
If Eubank scores an early knockdown, I believe it will be a flash knockdown rather than a fight-ending punch. However, there may be a few flash knockdowns during the bout, which Benn should recover from.
We predict Eubank Jr. will stop Connor Ben in the late rounds. What about you?
Indonesia Bantamweight Supremacy
This Saturday, Indonesia's premiere mixed martial arts promotion, One Pride MMA, returns Live at the Tennis Indoor Senayan in Senayan, Jakarta, Indonesia, with two excellent main events that will surely excite local martial arts fans this weekend.
The current bantamweight champion Gugun Gusman will finally meet the interim bantamweight champion, Mario Wirawan, in the event's main event to ultimately decide who is the undisputed bantamweight champion in One Pride. Wirawan will put Gugun's great power and high wrestling skills to the test against the all-around complete MMA fighter in Wirawan. Wirawan is known for his skills in the art of Brazillian Jiu-Jitsu and excellent IQ in the standup game. Therefore, Gugun will need to do a little more in his technique to defeat the interim champion. In contrast, Wirawan needs to give extra power and effort to dismantle the current reigning bantamweight champion finally.
Will this be another stepping stone for Gugun Gusman's legacy as a dominant champion in One Pride? Or will Mario Wirawan finally reaches the top and become the P4P best fighter in One Pride MMA?
In the co-main event, Reigning featherweight champion Angga will be in an International fight against former One Championship fighter Xie Bin. Angga was last seen fighting in the Road To UFC tournament, where he lost against Kai Lu by TKO. Bin also last fought in the same tournament and lost his opportunity against Korean fighter JeongYeong Lee by Armbar. Both fighters are coming into this fight after losing their last outing and are ready to put a statement and earn a win in their career. Angga and Bin are master grapplers, and both are seasoned veterans in the grappling scene in their respective countries, be sure to see a grappling masterclass in this mixed martial arts bout.
Will the hometown hero be victorious against the Korean "Stalker"? Or will Xie Bin finally regains his win by defeating "The Hitman"? We will find out this Saturday!
There you go, Fighters! Our fight preview for the upcoming fight for this week. Remember to consistently train and purchase your training needs here at Hawkeye Fightwear.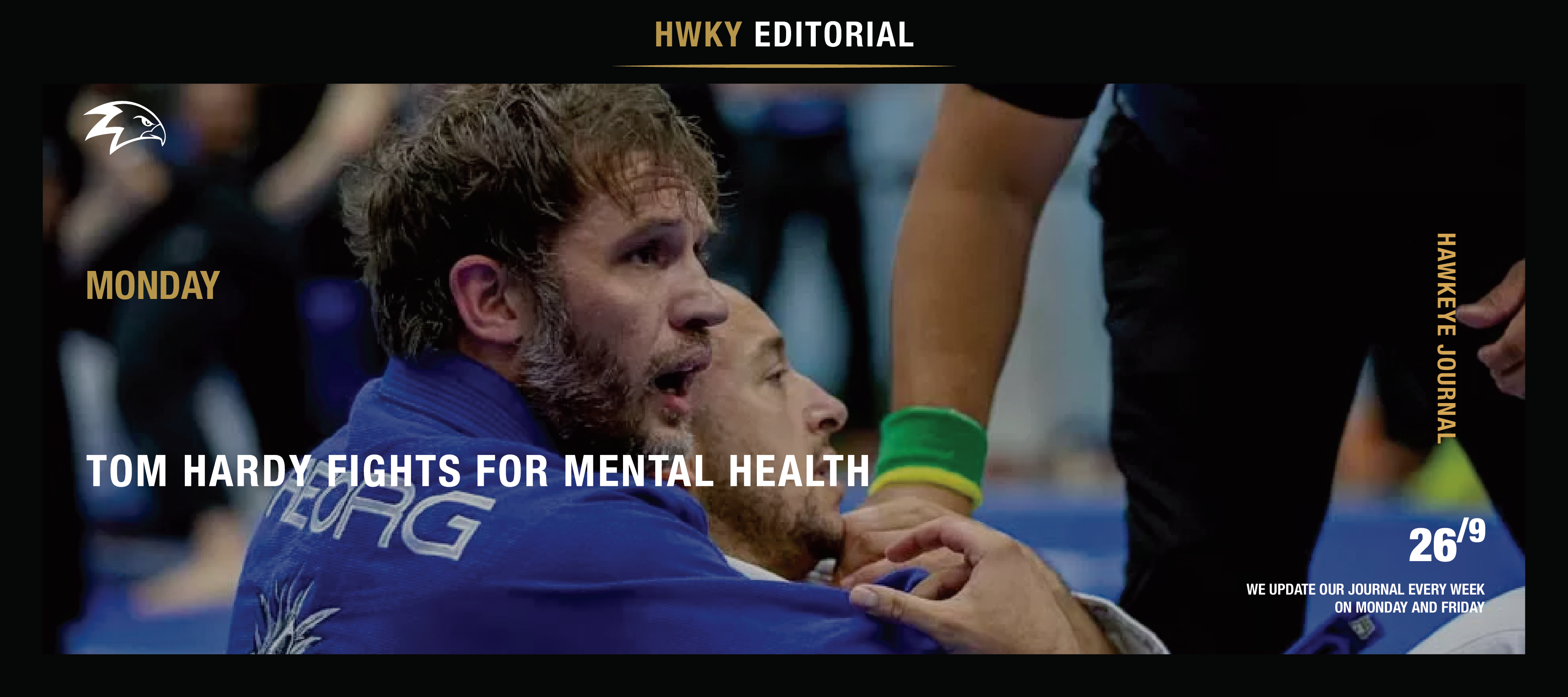 Tom Hardy Fights For Mental Health
Since his big-screen debut in Ridley Scott's Black Hawk Down (2001), Tom Hardy has established a reputation for taking on action-packed parts like Bane in The Dark Knight Rises, Eddie Brock in Ven...
Read more