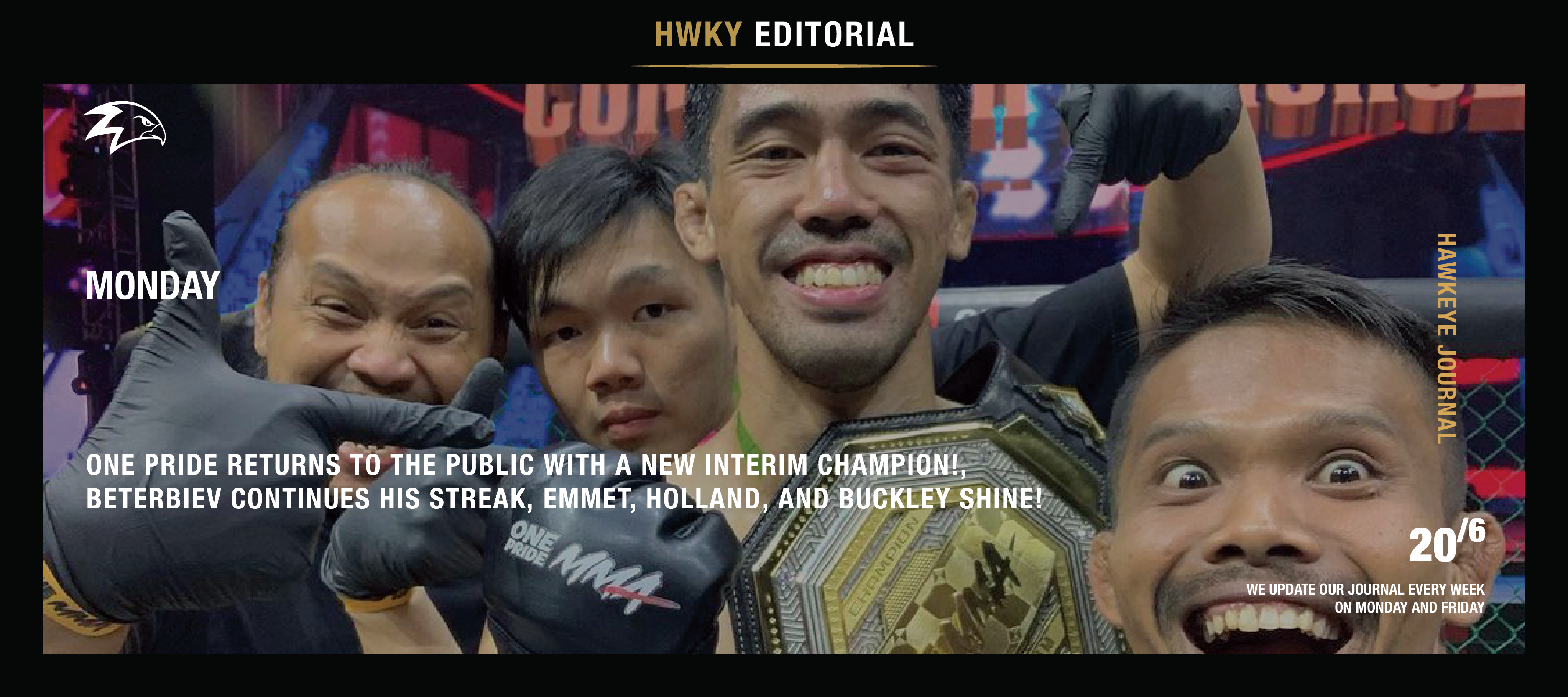 One Pride Returns To The Public With A New Interim Champion!, Beterbiev Continues His Streak, Emmet, Holland, and Buckley Shine!
Below is our weekly recap of what happened last Sunday in the world of combat sports:
Mario Satya Wirawan Wins The Interim Bantamweight Belt!
On Saturday, inside the Tennis Indoor Senayan, Mario Satya Wirawan won the interim title against Alfiandi in a 5-round fight, winning by unanimous decision to win the One Pride interim championship and meet Gugun Gusman to find out who is the real Bantamweight champion down the line.
Mario and Alfiandi set the bout as a back & forth fight in the ground, and the striking area as they fought to secure points as Alfiandi was better in the striking department and Mario was better in the ground game area. Alfiandi almost caught Mario in a guillotine choke position, but Mario was able to come through and dominate four rounds in the fight by securing takedowns and top positions.
Alfiandi should not give up on chasing the gold as he was competent in fighting a five-round fight. He was just a little bit outclassed in the ground game against Mario; expect Alfiandi to become more fierce and hungrier climbing to reach the belt once he is back in the cage. As for Mario, he should be able to defeat Gugun and win the undisputed title if he improves on his conditioning and endurance in a five-round fight, as he shows that he gets fatigued in the later championship rounds in his fight against Alfiandi.
Two Rounds Is All That Beterbiev Needs To Unify The Belts
Artur Beterbiev's pulverizing power is unreal, and he showed it in his bout against Joe Smith Jr. The unbeaten Beterbiev kept his perfect knockout record by knocking Joe Smith Jr. three times in less than two rounds. He stopped him in the second round of their highly anticipated 175-pound title unification fight Saturday night. The Russian dropped him once in the first round and wobbled Smith's leg in the second round to secure a referee stoppage.
The official time of the stoppage was 2:19 of the second round in the main event of a nine-bout card at Madison Square Garden's Hulu Theater. Beterbiev, 37, retained his IBF and WBC light heavyweight titles and won the WBO belt from Smith. Beterbiev needs only the WBA crown owned by Dmitry Bivol to become boxing's fully unified light heavyweight champion.
It looks like it's inevitable that after this fight, they will make Bivol vs. Beterbiev for the end of the year, or after Bivol finishes his rematch against Canelo, look for the light heavyweight division in boxing to become more interesting in the coming months.
Cowboy Vs. Lauzon Cancelled Once More, but The Young Guns Showed Their Potential On UFC Fight Night.
UFC Fight Night was live in Austin on Sunday with another canceled bout between Donald "Cowboy" Cerrone and Joe Lazon after Lauzon announced that He injured his knees. The first fight between them was Cowboy being injured, and now it's Lauzon's time to cancel the bout. But the card is filled with excellent fighters ready to step in and show that they are the next generation of combat athletes.
Two weeks before featherweight champion Alexander Volkanovski and former champ Max Holloway settled their business in Las Vegas, two top contenders battled for five rounds to earn a crack at the winner. After 25 minutes, Josh Emmett won a razor-thin split decision over Calvin Kattar in the UFC Austin main event at Moody Center. Then, in the co-main event of a card that tied a UFC record for most knockouts in a single event with eight, Kevin Holland scored the lone submission of the night by finishing Tim Means in the second round. (Source: UFC Fight Night Kattar Vs. Emmet Results)
What do you think about the fight? Comment below and let us know!! And be sure to purchase your fighting needs at Hawkeye Fightwear!