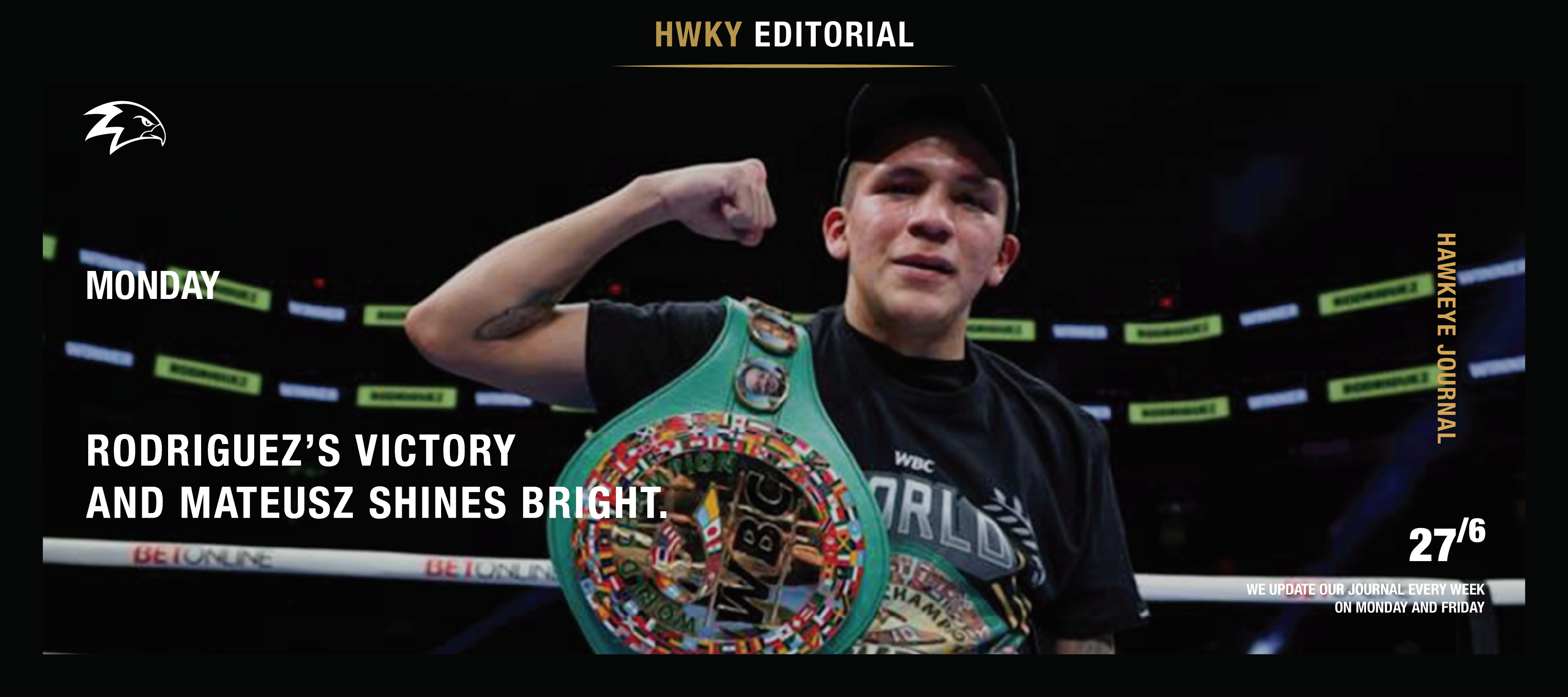 Rodriguez's Victory and Mateusz Shines Bright.
Hey, Fight Fans! Below is our weekly recap of what happened last Sunday in combat sports. 
BAM IS THE NEW CHAMP
On Saturday in San Antonio, Jesse "Bam" Rodriguez performed to remember by stopping Srisaket Sor Rungvisai in the eighth round to keep his WBC junior bantamweight title.
Rungvisai was knocked out in Round 7 by a left hand from Rodriguez, who ended him in Round 8 as Rungvisai was pinned against the ropes. At 1:50 into the first round, the referee called time. According to Rodriguez's promoter, Eddie Hearn, "This is the youngest champ in boxing, and he already might be a pound-for-pound great." He is here to leave a legacy and to be remembered.
For the first time, the 22-year-old Rodriguez headliner in his hometown put on a stunning performance. He kept Rungvisai off-rhythm and at the end of his power shots by employing a superb southpaw jab, graceful footwork, and a variety of angles.
It was incredibly impressive that Rodriguez could avoid Rungvisai's powerful shots and win every round decisively. Rungvisai had victories over two future Hall of Famers still in their prime, Roman "Chocolatito" Gonzalez and Juan Francisco Estrada.
Rodriguez, who entered the bout ranked No. 5 by ESPN at 115 pounds, said, "In the third round, I sensed his power wasn't the same." "I made the decision to take charge at that point. It's a great advantage to have Robert Garcia on my side." Rodriguez's victory over Cuadras in February announced his arrival and the acquisition of his first global title.
Mateusz Gamrot Gives A Performance Of His Career
Khabib Nurmagomedov is paying attention to Mateusz Gamrot after he recently earned the most significant victory of his UFC career.
Gamrot, who defeated Arman Tsarukyan in the main event of UFC Vegas 57 on Saturday, spoke to the media after the fight and related a brief exchange with Khabib Nurmagomedov, who is widely regarded as one of the greatest fighters to ever participate in MMA.
Gamrot talked about Nurmagomedov and Nurmagomedov's disciple, Islam Makhachev, after being questioned about why he singled out Justin Gaethje in his post-fight interview.
Gamrot declared, "I'm a huge Justin Gaethje admirer. He's the most brutal fighter in the lightweight division, in my opinion, and I have a lot of respect for him. This person engaged in two title fights. I feel like he is of an older generation than I am, so I want to take his place. I begin ascending to the top.
"When I asked Khabib a question today, he told me, "Congratulations on your fight. You're a decent person. You will undoubtedly engage Islam in combat in the future". Therefore, I have my fingers crossed for Islam and predict that he will defeat Charles Oliveira in their upcoming battle. I also hope to see Justin and Islam fight again". Nurmagomedov got to watch Gamrot engage in a dramatic five-round matchup against Tsarukyan because he was there at UFC APEX on Saturday in Las Vegas. 
Hoping for good things for the new star in the division as the UFC continues bringing many new talents into the stacked roster filled with excellent fighters.
A New Blood With Spunk
Danny Sabatello and the rest of his opponents in Bellator's bantamweight grand Prix have the same message for the Bellator 282 crowd: neither event is suitable for children.
"The Italian Gangster" won a convincing decision over Leandro Higo on Friday night to progress to the semifinals of Bellator's $1 million tournaments, living up to his trash talk. The crowd at Connecticut's Mohegan Sun Arena may not have appreciated Sabatello's performance or his post-fight promos, but the brash 29-year-old still had a blast. Except for a tense second round in which Higo took his back, Sabatello was in total control throughout his contest with his Brazilian opponent.
"The boos were music to my cauliflower ears. That was f****** awesome," Sabatello told reporters after Bellator 282. "What I specifically liked about this fight was in that second round, I faced some adversity. I had a guy like Higo on my back, who's an absolute killer on somebody's back. I weathered that storm, I got up, I smiled, I was happy I got out of it, and then I just pushed forward until the next rounds and absolutely f****** dominated him.
What do you think about the fight? Comment below and let us know!! And be sure to purchase your fighting needs at Hawkeye Fightwear!