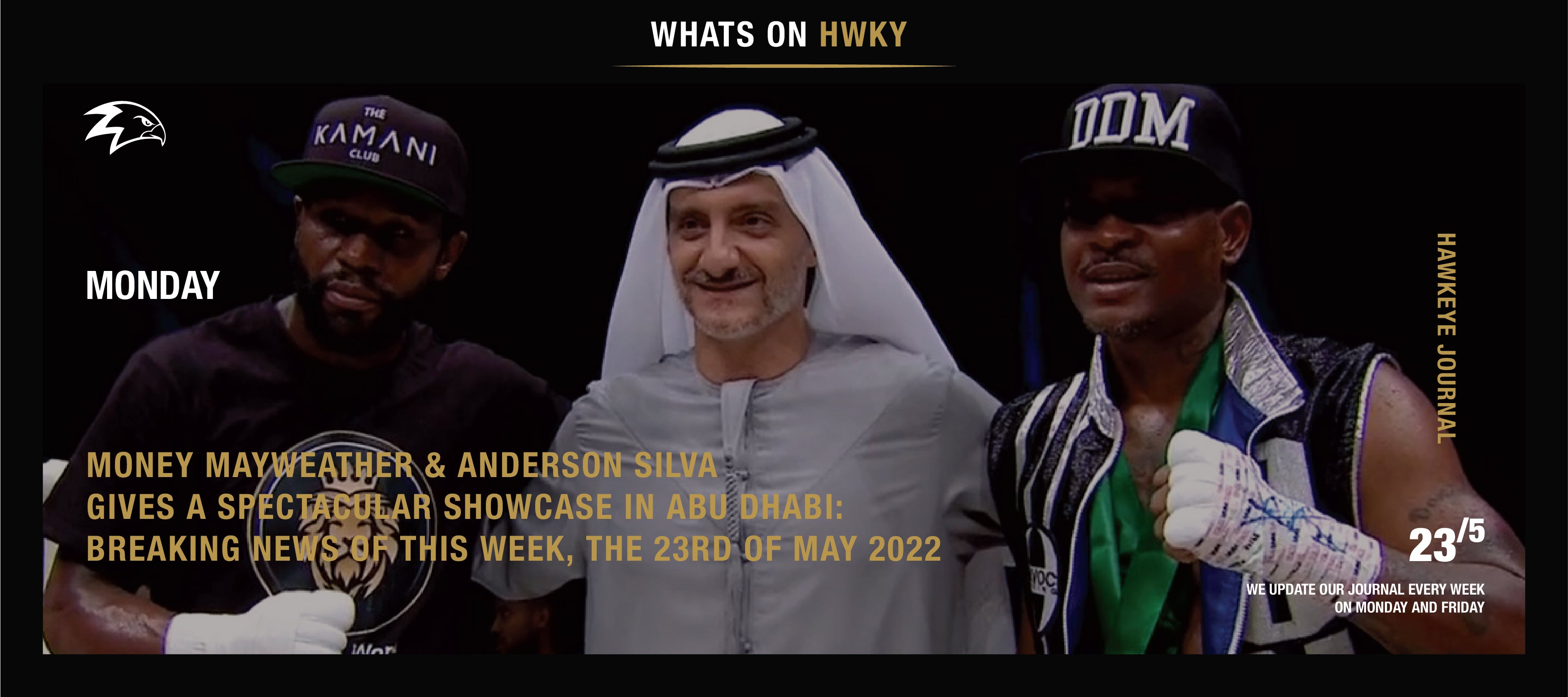 MONEY MAYWEATHER & ANDERSON SILVA GIVES A SPECTACULAR SHOWCASE IN ABU DHAB
MONEY MAYWEATHER & ANDERSON SILVA GIVES A SPECTACULAR SHOWCASE IN ABU DHABI: BREAKING NEWS OF THIS WEEK, the 23rd of May 2022
Floyd Mayweather & Anderson Silva Compete in Abu Dhabi
In an exhibition fight scheduled for eight rounds, two minutes long, former five-division world champion Floyd Mayweather Jr. took part in his third non-sanctioned bout with undefeated 45-year-old Don Moore.
Mayweather, also 45-years-old, officially retired back in August of 2017. He fought Youtube star Logan Paul in an exhibition in June of 2021. Moore, Mayweather's former sparring partner, had been inactive since 2016. 
 Once the fight began, it was a technical star with circling and jabbing. There wasn't much action at the start. The second was a little more active than the first. Mayweather was outboxing Moore in a slow-paced fight. Mayweather began to get a little more involved in the third, and the rest of the rounds were all Mayweather. Mayweather entertained the crowd by commentating on his fight while in action and replaced the ring girl by carrying the round sign.
It was the Mayweather show, and he seems to enjoy his most effortless payday to date. On the same card, MMA legend Anderson Silva also fought in boxing rules against Bruno Machado; Anderson, at 47 Years old, schools the Brazillian fighter and scored a knockdown in the 5th round. Silva looks to be gearing up for a potential boxing fight against Youtube star turns professional boxer Jake Paul, as Paul teases a picture that he will face off against the legendary spider in the future.
Khabib Plans To Visit His Longtime Friend & Heavyweight Champ, Cain Velasquez.
In February, former UFC heavyweight champion Cain Velasquez was arrested and charged with attempted premeditated murder after he allegedly shot a man charged with molesting one of his relatives.
Over the weekend, Khabib Nurmagomedov became the latest fighter to join the "Free Cain" movement. He plans on visiting Velasquez in jail to "give him good energy." Quoted from TMZ, "Yesterday, I was talking with coach," Khabib explained. "I tell him any chance or is it possible to go and see him in jail? In Russia, we can go and see anybody like I asked him because I don't know the law here in the U.S. I really wanna go to see him. After a couple of days, I'm gonna be in San Jose. I wanna go to see him, shake his hand, give him good energy."
Khabib defended Velasquez for his actions, maintaining that Cain was simply protecting his family. "Anybody in the world who respects himself, who loves his family – he's gonna do same thing," Khabib said. "C'mon, nobody gonna think about law or something when you have something about your family. You have to protect your family." Nurmagomedov also noted that the man accused of molesting Velasquez's family member is free, while Cain is behind bars.
"This is not fair to sit in jail and other guy, he's outside," he said. "What about other guy? Put this guy in jail, too! He's more dangerous for people than Cain Velasquez." Khabib added, "Never in his life, he's 40-years-old, never in his life did he have a problem in social, you know, outside with people. He's the most respectful guy I've ever seen in my life. I was training with him more than 10 years, I know his family, everybody."
If convicted, Velasquez faces up to 20 years in prison. 
Fight Results from This Week:
Ketlen Viera Def. Holly Holm (Decision - R5 - 05:00)
Michael Pereira Def. Santiago Ponzinibbio (Decison - R3 - 05:00)
Petchmorakot Petchyindee Def. Jimmy Vienot (Decision - R5 - 05:00)
Rodtang Def. Jacob Smith (Decision - R3 - 05:00)
David Benavidez Def. David Lemieux (TKO - R3 - 1:31)
Jeka Saragih Wins Lightweight Interim Title in OP Fight Night 58
Novan Yeremia Retains Atomweight Champion in OP Fight Night 58
There you go! Your fight news & results for this week of the 23rd of May, 2022, Don't forget to purchase your fighting needs at Hawkeye Fightwear!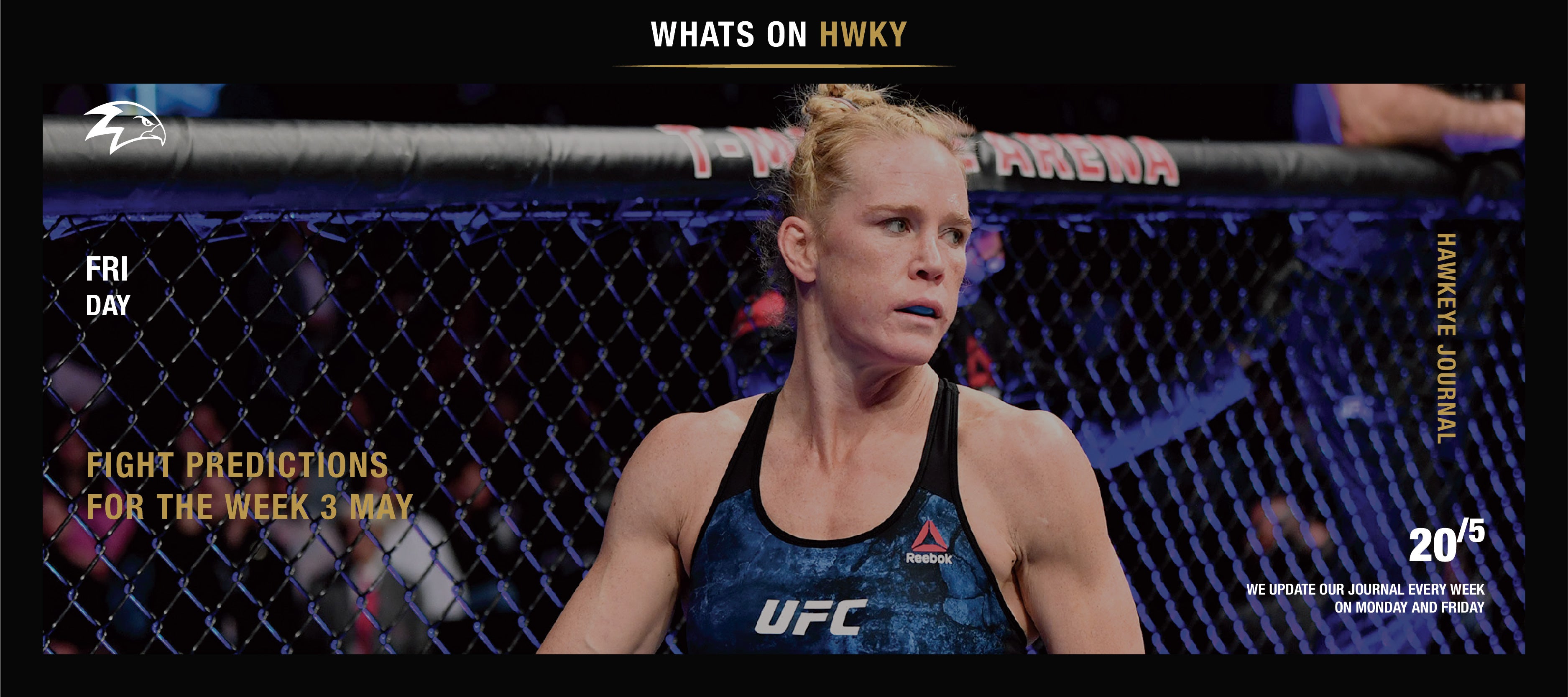 Fight Predictions For The Week 3 May:
Fight Predictions For The Week 3 May: Hey Fighters, we will give you a roundup of all the bouts available this week that might interest you to enjoy your weekend full of high-action bouts! Women'sW...
Read more