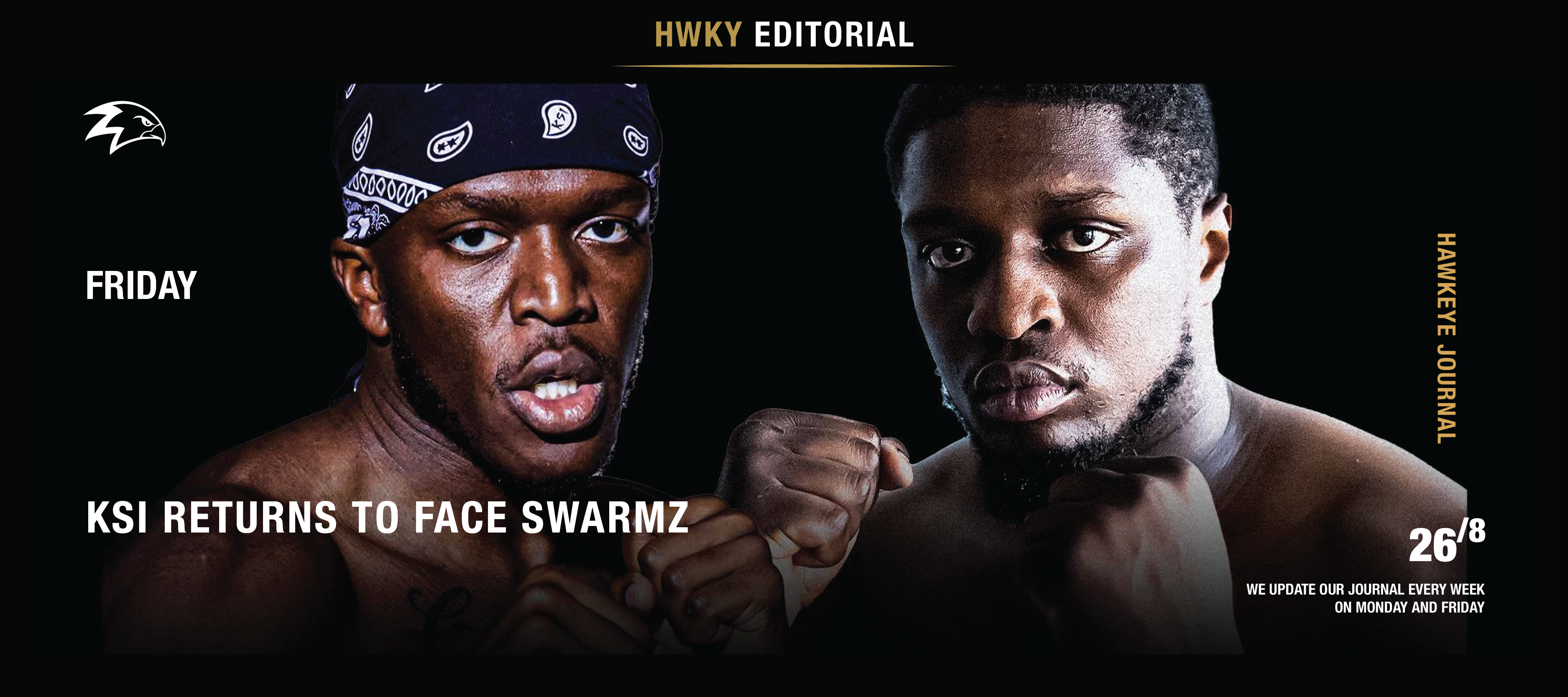 KSI Returns To Face Swarmz
The end of August is near. After witnessing great moments in the fight world this month, the final event of August will be the return of internet celebrity turned professional boxer KSI against Swarmz after Alex Wassabi pulled out of the fight a few weeks ago.
It was stated on July 1, 2022, that KSI vs. Alex Wassabi would take place on August 27, 2022, but owing to a significant concussion, it was confirmed on August 6 that Swarmz would be Wassabi's replacement. This was the first event under KSI's promotion company Misfits Boxing. Additionally, it was announced that a series of other boxing events titled "MF & DAZN: X Series" would be held in collaboration with DAZN, who had previously been the distributors for KSI's rematch against Logan Paul, and that more events would follow, with the KSI vs. Swarmz event X Series 001 marking the start of the series.
On August 16, it was announced that KSI would face a second opponent on August 27, dubbed "2 Fights 1 Night." KSI's second opponent has been confirmed as Mexican professional boxer, Luis Alcaraz Pineda.
KSI will return to the boxing ring on Saturday to fight Swarmz and Luis Pineda, but how do we think he will fair against fellow YouTube star Swarmz? This will be KSI's third ring appearance, and there is speculation that he may meet Jake Paul in 2023.
KSI against Swarmz will occur on Saturday, August 27, 2022, at the O2 Arena in London, England.
KSI enters the ring as the big favorite over Swarmz, defeating Joe Weller and Logan Paul in 2018 and 2019, respectively.
KSI defeated Weller via TKO, but his victory against Paul was significantly more competitive, as he won by split decision.
Considering that KSI has fought on PPV before, has a significantly more extensive reach and height than Swarmz, and appears to be in superior shape ahead of the fight? How can we pass up the 2-0-1 boxer?
This is a mismatch, which is why KSI has agreed to fight a professional boxer on the same night in Luis Pineda. Therefore, we predict that KSI wins by TKO or KO in this bout and will succeed in defeating Pineda either by Knockout or decision
There you go, Fighters! Our prediction for the upcoming fight for this week. Remember to consistently train and purchase your training needs here at Hawkeye Fightwear.