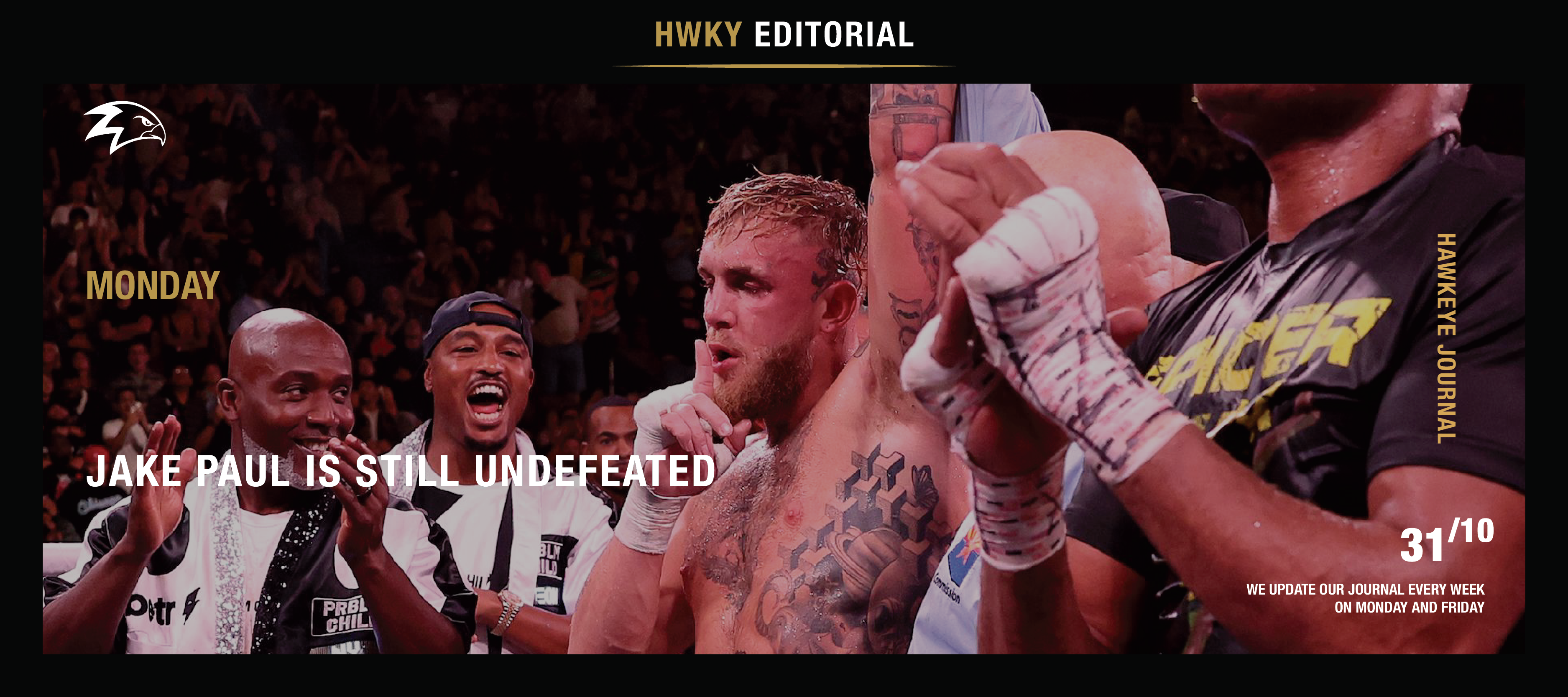 Jake Paul Is Still Undefeated
Jake Paul fought the toughest test of his career and delivered a stunning knockdown in the final round against Anderson Silva to secure his victory and remain undefeated.
While the scorecards suggested a much easier fight, Paul did not have an easy working night, taking some hard shots from Silva round after round as he attempted to connect his infamous knockout punch. All night, Silva ate Paul's best shots until he was caught with a counter that sat him down on the ground.
That was Paul's best punch of the night, as he improved to 6-0 in his career after the judges awarded scores of 77-74, 78-73, and 78-73. "Hard work pays off. I want to say thank you to Anderson. He was my idol growing up. He's a tough mofo. A legend. I have nothing but respect for him.
"He took so many hard shots throughout the fight. He's a real dog. He's the toughest guy in the world. I just wanted it more. I left it all in the ring." Paul said after the fight.
Paul began the fight aggressively, attempting to walk down Silva, throwing various jabs to the head and body before returning to the top with powerful hooks. Silva dodged many of Paul's punches before landing a well-timed straight left that drew his opponent's attention.
As the second round began, Silva moved forward, gauging Paul to engage with him while ducking and dodging most shots fired back at him. Finally, Silva landed a well-timed uppercut that snapped Paul's head back, and Silva's momentum began to rise. Paul was constantly loading and relying on his right hand, which has been the punch that had delivered him multiple knockouts, but Silva was evading and hitting back with his own combos.
Paul was more active in delivering power shots to Silva, but the MMA legend fired back with volume and counter-punched the Youtube sensation. It was a close fight. With only three minutes remaining, Silva came out shooting, but Paul responded with a massive counter right hook that floored the mixed martial arts icon. Paul's knockout came from a brilliantly placed punch, and he used it to silence many critics as he won the eight-round fight.
Silva gave credit where credit is due after the fight saying, "Jake is better than me today. I don't have nothing bad to say about my opponent. I think everybody needs to respect this kid. It was a very hard fight for me today."
Paul called out Nate Diaz and Canelo after the victory ""I want Nate Diaz," Paul shouted. "He's a b****. He tried to come into my locker room. He tried to cause some s***. Then he always leaves the f****** arena. Nate Diaz, stop being a b**** and fight me and you too, 'Canelo. "You said, 'you can't beat a striker. You can't be a legend like Anderson Silva.' I just did it. So why can't I beat Canelo? F*** ya'll. Anyone, any time, any place."
With the victory over an MMA striking sensation like Silva, should we finally give respect to Jake Paul? Or does he need to face a legitimate boxer to finally be recognized as a tremendous professional boxer?
There you go, Fighters! Our fight result for this week. Remember to consistently train and purchase your training needs here at Hawkeye Fightwear.