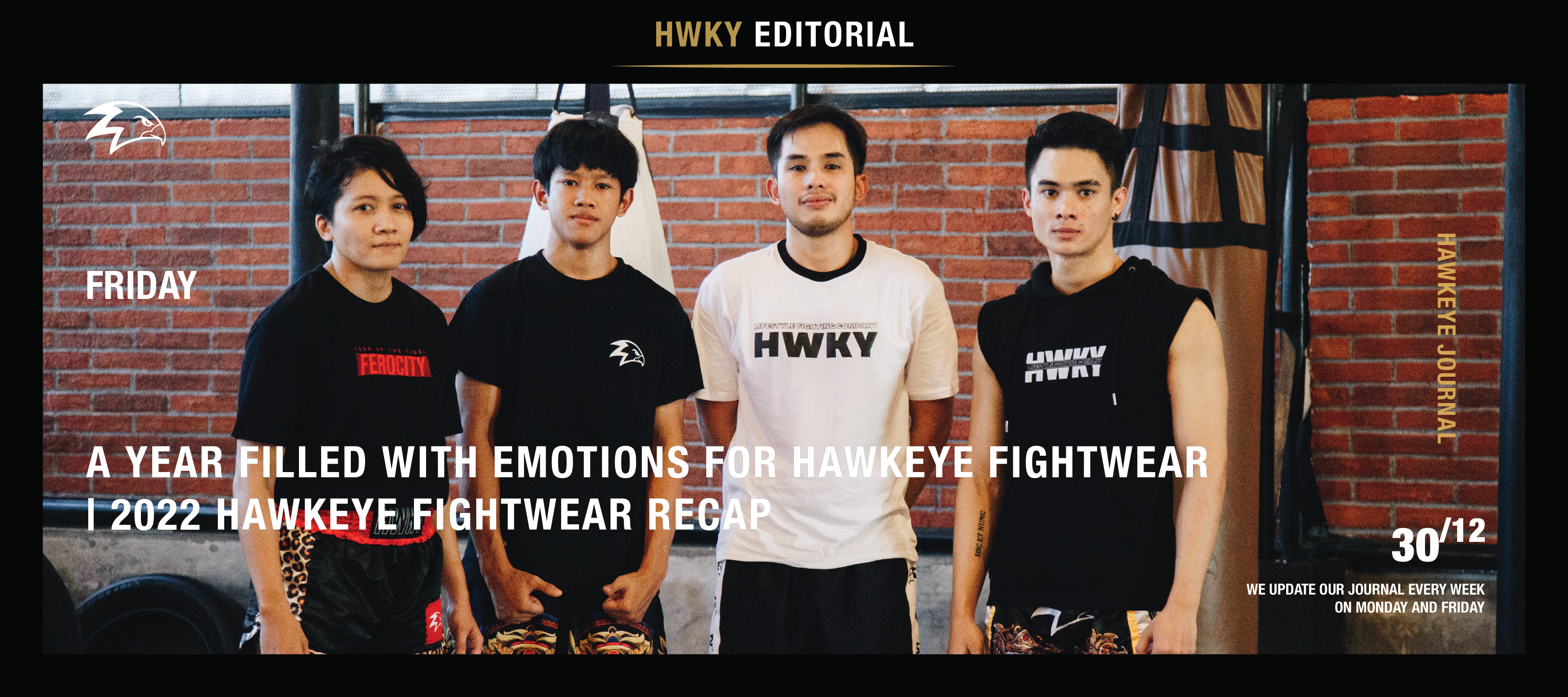 A Year Filled With Emotions For Hawkeye Fightwear | 2022 Hawkeye Fightwear Recap
It's the 30th of December 2022, and I think it's time we look back on what happened this year in Hawkeye Fightwear. as many of our loyal fans know, it has been a whirlwind of a year for us, so let's start at the beginning, shall we?
The start of the year was the launch of our new line of boxing gloves, the "Word Wild High Club" line that upscaled the previous World Wild model with newer and stronger leather so our fight fams can have long-lasting boxing gloves. We also created a new line of fight shorts based on Indonesian heritage and culture. Finally, don't forget we made a shiny new boxing necklace for you to flex your fighting attitude to your friends. The following month, we celebrated the lunar new year with a capsule collection containing the lunar message of the year of the tiger with "Ferocity." and launched our product collaboration with former One Pride champion Theodorus Ginting titled "Singa Karo 2.0" the newest iteration of our previous partnership with him. Everything is still going very well this month, and then we finally hit one of our most significant campaigns of the year.
"Keseimbangan" was our first ambitious project to date. It tells the story of having a balanced life in the hustle and bustle of the urban city. We collaborated with rising Indonesian rapper Basboi in this project. In addition, we worked with Creativera, a creative studio that produces big-budget commercials for companies like BMW and Sinarmas. In June, we celebrated our 10th Anniversary in the fighting business with a short movie titled "Journey To Glory" featuring boxing prodigy Mars De Volta and Indonesian rapper Fajar Ibel recounting our journey from 2012 to 2021 in one video. The celebration also continues with us supporting Holywings Sports Show and Daud Yordan's triumphant event in Balai Sarbini. But then, the fire nation attacked.
On the 22nd of September, an incident happened in our warehouse that caused all of our inventory to be burned down. All of our effort this year was destroyed in one single tragedy. Everyone was starting to lose hope and asking questions about whether our company could return to its former glory, especially after celebrating our 10th Anniversary.
But then, we received a tremendous amount of support in our fight culture community, as they gave all of their passion and aid to make sure that our company can rebuild and keep producing quality products that our community demands, and so Hawkeye Fightwear at the end of the year is close to being back to normal operations. We are excited to release what's in store for you in 2023.
As a closing statement, we want to thank our community for tagging along this year in this journey filled with ups and downs and high drama. We hope you continue to follow us in the coming years because we couldn't do this without you, fam!
Fight Fair, Fight Strong, and Fight Together!