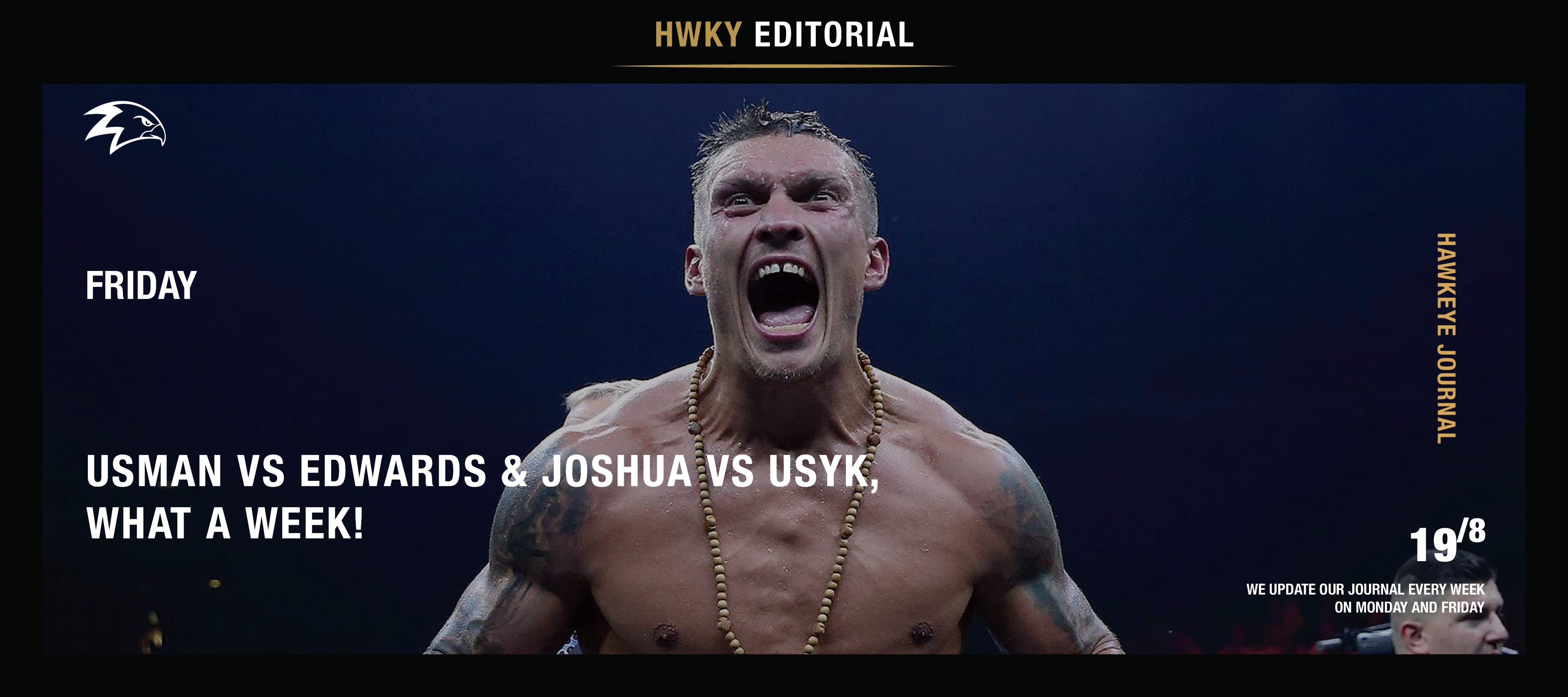 Usman Vs. Edwards & Joshua Vs. Usyk, What A Week!
These weekend fight fans are treated to two anticipated fights this year as UFC brings a star-studded card featuring the welterweight P4P king and the heavyweight boxing rematch that fans are waiting for!! This is the fight preview for this week!!
Let's start with the UFC first, shall we? 
UFC 278, which takes place this Saturday at Vivint Arena in Salt Lake City, Utah, is a packed card of key fights across various categories, capped off by a welterweight title rematch between two fighters who are unbeaten in their last 25 fights combined. In Saturday night's main event, Kamaru Usman defends his welterweight title against streaking British challenger Leon "Rocky" Edwards in quest of his sixth successful title defense and a record-tying 16th consecutive UFC victory. 
Usman has never lost in the UFC — 15 wins and 15 losses — and defeated Edwards in his second bout with the organization. Since then, he's risen to the top of the 170-pound weight class, surviving challenges from Colby Covington and Jorge Masvidal, with a match against Gilbert Burns sandwiched in between.
Edwards hasn't lost since that battle with Usman in December 2015, going 8-0 with victories over Vicente Luque, Donald Cerrone, and Rafael Dos Anjos before missing the rest of 2020. He returned to action early last year, beginning well before his fight with Belal Muhammad was called off due to an unintended eye poke, before defeating Nate Diaz by unanimous decision in June.
This rematch has been coming along, and the combination is fascinating. Each guy has significantly developed since their initial meeting and brings a well-rounded skill set into the Octagon this weekend. Usman has shown tenacity and grit, as well as better boxing, in his last three fights, but Edwards is a complete fighter with the ability to work for 25 minutes at a steady clip. So will Usman retain and tie Anderson Silva's record for the most consecutive wins in UFC history, or will Edwards end his reign and take over the welterweight title?
The card also features Paulo Costa versus the returning Luke Rockhold. Jose Aldo also returns to the Octagon against Mirab Dvalishvili. It will surely be a night fight fans will be excited on the weekend.
And now we move forward to boxing, as Anthony Joshua and the reigning heavyweight champ Olyksander Usyk meet again for heavyweight supremacy. Here is an excellent breakdown from boxer Joe Joyce, who fought Usyk and Joshua in his career while talking to ESPN about the upcoming fight. How can Joshua, 32, change the course of the sequel after being out-moved and out-boxed by Usyk in September in his debut fight with new trainer Robert Garcia?
"I think because he's the bigger man, he has to be the big man in the ring and use his power to his advantage," Joyce told ESPN. "If Joshua can land his power shots, he's got a chance. AJ was getting frustrated in the first fight because he couldn't land. He needs to throw more damaging shots and land with every shot, maybe more offensive combinations. "He's been working with his new trainer Robert Garcia, so I think he will be more aggressive in this fight, that's Garcia's style, and he's supposedly been working with him a while."
"Joshua's tactic is to come forward throwing some combinations, but there's a danger of him getting tired too," Joyce added. "He's got massive physique -- especially his arms -- so he's got power shots, but it's about delivering that power. When Murat Gassiev fought Usyk [in 2018], he couldn't land his big punches, the same as Joshua. It's frustrating when you can't find the target. When I fought Daniel Dubois, a big puncher, he had to have his feet set to land a punch. But by keeping my feet moving, I could nullify his power. He had a certain 30-second window when he could land his punches before he was tired out. Usyk will know the things that worked against Joshua last time, so he just has to do it more efficiently to win again, so it's a big ask for Joshua." 
"It's in Usyk's favor, and he will probably win the rematch" Joyce said. "He's more skillful but it's heavyweight boxing and AJ has a puncher's chance if he can put Usyk under pressure. Usyk has got better footwork and movement. Joshua has good technique too, he's just not as good as Usyk, who is more mobile and quicker. He kept Joshua guessing in the first fight.
"Usyk sometimes takes a few rounds to work his opponents out but with Joshua he just went straight to work and knew what he was doing. He's already beaten him and knows what he's doing, what works. He's obviously been working on some more stuff too. Maybe he's been working on his power and will test AJ's chin. He knows he can land his shots from the first fight. It will be a tough fight for Joshua and it's whether he can turn it around. I would say Usyk, but Joshua has a shot."
Joyce finishes his breakdown with what happens if either man wins in the fight, saying that a fight with Fury might happen because he thinks Fury will be interested in fighting the winner of this anticipated rematch in Saudi Arabia in the Jeddah Superdome this Sunday.
Our Prediction for these two main events this week:
Kamaru Usman Retains The UFC Belt With A Knockout or TKO In The 3rd Round
Oleksandr Usyk Retains His Belt by Unanimous Decision
There you go, fighters, the preview, breakdown, and fight prediction of all the upcoming fights this week!! Comment below and let us know what you think!!! And be sure to purchase your fighting needs at Hawkeye Fightwear!